T
The Nakasendo was one of the five routes of the Edo period which connected Edo (Tokyo) with Kyoto. The section that goes from Magome to Tsumago (around 7km) is pretty well conserved. The fact that is pretty easy to walk makes it a famous weekend destination.
Magome
This Nakasendo section can be walked in both ways but we started in Magome since is the easiest to access coming from Tokyo or Nagoya. We actually have done the walk a couple of times already (both starting from Magome). The main street has plenty of nice Japanese houses where you can stay the first night. If you have a narrow budget you might wanna take a look to Guest House Gaku Magome which is a restored elementary school.
The route to Tsumago goes North so if you still have hours of sun on your first day you might wanna take the route to the South to warm up for the next day.
You could also spend the day exploring Magome which you will soon realize it won't take much time as most things are scattered at both sides of the main street.
Both towns run a service to transport your luggage from one point to the other, so that you can carry just a small backpack for the trail. In Magome, go to the Tourist Information Center to drop the rest of your luggage.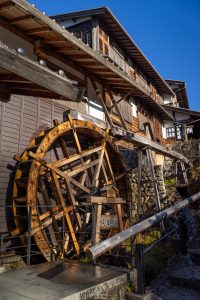 The Nakasendo trail
As mentioned before, this Nakasendo section is very easy to walk and passes through some small villages. It's specially nice in Autumn to enjoy the red/orange/yellow leafs. It's mostly flat except a small steep section which I think is actually easier going from Magome to Tsumago that the other way around. In any case, I think everybody will be able to walk it without problems. To have a better idea you can check this page which plenty of pictures of the trail.
Around half of the way you will find a tea house where the owner serves tea and, if you are lucky, even some small snacks. They are actually free and you got some kind of piggy bank to give something. The owner is pretty friendly and last time we visit he even sung for us. You should definitely stop by, you won't regret.
Tsumago
As sooner than you expect you will end this part of the Nakasendo arriving to Tsumago. It's kind of similar to Magome as it's mostly a big street that cross the town from South to North. First time we came most accommodation were full or out our budget. At the end we decided to stay in a hotel that was kind of far but they got a shuttle bus service from the town. We end liking it so much that the second time we repeated the same strategy.
We were lucky on our first visit to Tsumago because there was some kind of local celebration and there were plenty of people wearing traditional clothes and even a small drum concert and some traditional cat too, what better way to finish the trip 🙂