K
Koyasan
Located at the south of Osaka, Koyasan (Mount Koya) is the most important temple settlement of Shingon Buddhism.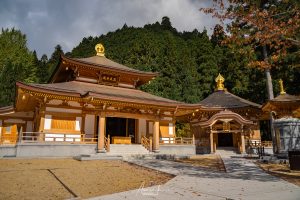 It was, once again, a long weekend scape from Tokyo so we stayed one night in Osaka first so that we could take an early train to Koyasan the next day. As in any visit to Osaka, Dotonbori is a must see, no matter how many times you've been , is always worth a new visit. In the very mornings it seems a completely different place.
We would take a train until Gokurakubashi Station (極楽橋駅) where you need to take a small cable car and from there a short bus to Koyasan that has several stops so check out the closest to your accommodation. Koyasan is a famous to experience staying overnight in a temple. We really enjoyed the peaceful atmosphere and the food was specially good. Normally you are even invited to join the morning prayers.
Kongōbu-ji (金剛峯寺)
The Temple of the Diamond Mountain Peak is the head temple of Koyasan and has the biggest rock garden of Japan.
Danjogaran (壇上伽藍)
This complex has the main pagodas and temples of Koyasan so make sure you don't miss it. It includes Konpon Daitō (根本大塔) which is the tallest building in Koyasan.
It was not the main Fall season but still we were able to see some nice Autumn colors scattered around the temples.
Okunoin Cemetery (奥の院墓地)
Koyasan is not only famous by its temples. The Okunoin Cemetery is without doubts one of the big attractions of  this area. It is the largest cemetery of Japan but according to the Shingon sect there is no deads in Okunoin but waiting spirits. Several historical figures are buried here.
And that was the end of our short trip as we spent pretty much the last day to go all the way back to Tokyo. If you are planning to visit Koyasan, I'd recommend to at least overnight one day in one of the temples to get the full-experience.