Sanja Matsuri
Sanja Matsuri is celebrated the third weekend of May and is one of the most popular festivals in Tokyo. It is also known as Yakuza Festival as it's well known that Yakuza members participate in it. In fact they like to show off their tattoo which is an extra highlights of the festival for some people.
Sanja Matsuri takes places in Asakusa around  the Sensoji Temple, not far from the  Tokyo Skytree . It's a very touristic spot so this area is always crowded but it gets at its climax during the festival when 2 millions people visit it. Said that, there is who always find a good spot to take a rest.
The most interesting part is to see people carrying mikoshis (small Shinto shrines). They carry them along different streets but at some point they take them to the Sensoji Temple. We make ourselves a small spot just in from of the temple so we had the chance to see all of them. As you can imagine that spot is specially crowded during the festival so taking pictures won't be easy. Definitely forget about using a tripod.
If you wanna make sure people don't photo boom your shoots you could do like this guy and bring a small stool. Love how Japanese photographers are always so prepared for these situations…
If you couldn't take a proper picture of the portable shrines, around lunch time they let them parked next to Sensoji temple so you can have a closer look (normally next to the small garden or behind the temple). They got tiny mikoshis for children too.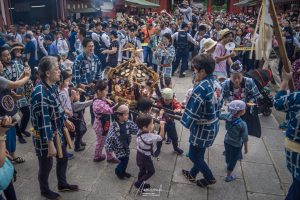 Another attraction of the Sanja Matsuri is to have the chance to see Yakuza members. I read in the past they were more likely to be seen but they had some incidents and authorities don't allow them to show off, at least on the main area of the festival…
The first day we went to the festival (Sanja Matsuri runs for 3 days) we didn't see them and the weather was not so good so we decided to go back the next day. That time I run my own investigations to find them. Basically I checked pictures from previous years to see which clan they belonged to and once I see them I basically followed them. At some point, far from the Sensoji temple, they started their show.
Not sure if they do it always on the same location, here is a map with the area they did last time.  My Japanese skills are zero so I couldn't understand much of what was going on. After some kind of ceremony they let the mikoshi to a different clan who took it from there.
Besides the Yakuza members that get up to the shrine , there are several others walking around in that area. We even saw an old man that must be up on their hierarchy as it got a couple of bodyguards with him.
If you are in Tokyo during the third weekend of May you definitely might wanna get to Asakusa to experience the Sanja Matsuri!