I
It was going to be my very first time in US. It was for working reasons but anyway I always get excited when I visit a new country for the first time. I stayed close to San Francisco for a month so, besides working hard, I managed to do some small trips like this one.
The whole idea of visiting Los Angeles was from a coworker so I didn't really plan anything about it. Soon I'd realize that without a car this is a hell of city to visit as a tourist (and very likely to live on). Luckily my friend got a valid license so we spent the few days driving around which make the trip much more productive. First stop would be a cultural one, the Getty Center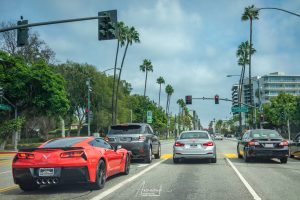 Following our very touristic route we paid a visit to the world famous Hollywood sign. It always remembers me a trip I did to Romania several years ago as they got similar ones in cities as Brasov and Rasnov.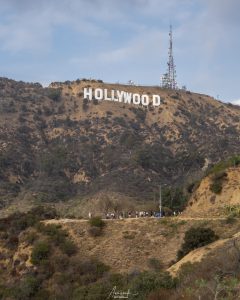 Union Station was on our tourist route too, nothing special from outside but its interior are worth a few pictures.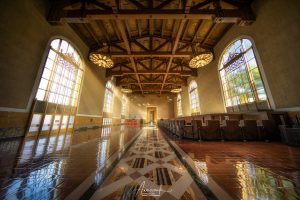 Around the Union Station is found Olvera Street which was a nice surprise. Once you step in, it automatically teletransport you to Mexico with its people, shops, historical buildings and restaurants. There was even a traditional dance going. We visit a couple of small exhibitions there, once talking about the big homeless issue in the city and the other about the mural of América Tropical which I had never heard of it before but got an interesting story behind it.
One of the things I liked the most, not just in Los Angeles, is the mix of cultures you can see everywhere. Like this next photo where you can see a small building with three different languages. China Town was not far so we went by walk. It was almost October 10th  so there was an event going on and the whole town was dressed with ROC flags. In fact,  Los Angeles has the largest Taiwanese community in US.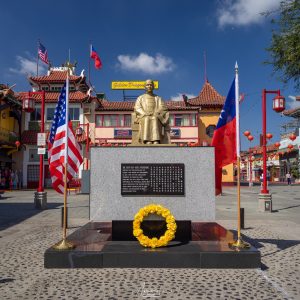 We didn't want to spend time driving and looking for a parking again so we decided to keep walking as much as we could. As we were approaching the City Hall we started listening music and soon realised there was another big celebration in the Grand Park.  This time was a Latinos celebration which meant it was time to get couple of Burritos and some drinks.  My hands were would be pretty busy handling the burrito so I didn't take any picture of the park. Once our bellies were happy enough we kept walking through a kind of more business area.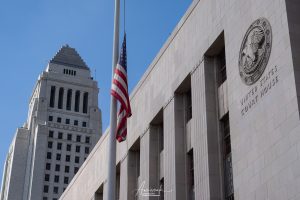 When I saw The Walt Disney Concert Hall it automatically made me  think of the Guggenheim Museum Bilbao. I can't say I'm surprised to see that they were both designed by the same architect. We were decided to walk as much as possible, this time through a more business area.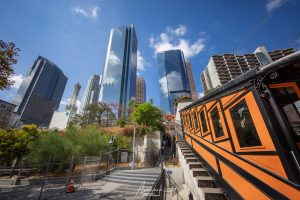 Soon we would get an area with older buildings. for movie buffs out there, can you recognize the interior of the Bradbury Building (second picture)? Answer here.
Other thing I liked on my stay here were the amount of nice graffiti and murals almost everywhere. Japan pretty much lack of them except cool neighbourhoods 😉
We ended our Downtown tourist walk in Little Tokyo but I didn't make pictures there. We were both coming from Tokyo so it was more about curiosity about how it looked like than anything else. Another coworker recommended us to visit the so called Venice Canals and I can't do anything else than extend that recommendation to you. Pretty nice area to walk by.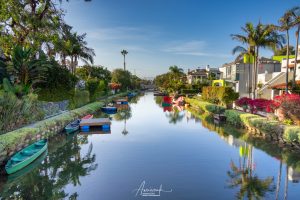 Venice Canals are just next to another must do of Los Angeles : Venice Beach
There is so many people doing different activities across this beach: running, bodybuilding, playing basketball… I especially liked the skatepark they got there. Nice place to spend some time taking pictures of the local skaters.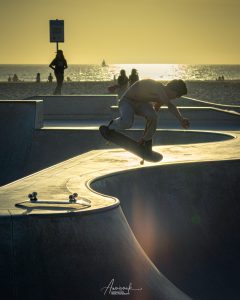 The only thing I had on mind planned before landing LA was to prepare some time in Santa Mónica to take some nice sunset pictures of the pier. Unfortunately thousands of people had a similar idea and there was a huge traffic jam. We arrived the area when the sun was already gone so we just had the time to stop the car in a close parking and take pictures right away. No time to get closer to the pier or even to setup the tripod or for a better composition.
To end the day, we went to the Griffith Observatory. There is a nice view of the city at night from there but you will need to get a good zoom lens for it.
Last day we were on Los Angeles we decided to do something completely different and went to the south part for a whale watching tour. We knew we probably would not watch any as it was not the best season for it but still wanted to give it a try. As expected no whales at all but we did see so many dolphins around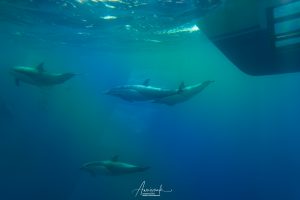 And that was it, we run back to the airport to get a flight back to San Francisco.