What better way to end my trip to California than visiting the Yosemite National Park .
My stays in Los Angeles & San Francisco were indeed interesting but my main objective was to visit the Yosemite National Park. A college of us lend us his car so in a few hours we easily arrived. I will mention the best photo spots we found along the park. Spoiler alert, I could not photograph the famous Horsetail fall because of the time of the year. What a better excuse do I need to go back some day? 😉
Tunnel View
Tunnel View will be the first famous photo spot getting into the Yosemite National Park from San Francisco. It's difficult to miss as it's situated on the main road after a tunnel. There is a small parking at the left side and very likely a bunch of people taking pictures. Our accommodation was almost at the entrance of the park so we passed trough this point at sunset too. We even went back after dinner for some night pictures. There were some guys climbing El Capitán at sunset which I guess they would sleep on the wall and make it to the top the next day. I didn't have a long enough tele-zoom lens (still on the wish list) so it can't really be appreciated on the pics.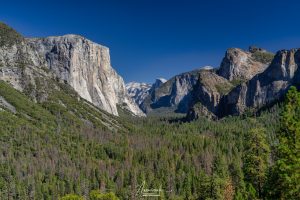 Glacier Point
If you are looking for a high view of the Yosemite National Park this is your best spot. There is a hike that lead you to the top but it can be easily reached by car too. Glacier Point gives you an awesome panoramic view of the park with the prominent Half Dome . Does it sound familiar? You probably remember that clothes brand that replace some Wikimedia photos to promote itself… The couple of nice waterfalls down there where part of the hike we had on mind to do.
Sentinel Dome
On the way to Glacier Point there is another interesting photo spot you might be interested called Sentinel Dome. You will probably see a bunch of cars parked just next to the road. It takes just 15-20 minutes by walk to reach here.
The Mist Trail
The park and the weather were too nice to just drive around. There is a bunch of hikes available in Yosemite . The Half Dome hike was probably the most attractive one but we didn't have time so we finally did the Mist Trail. We passed through a couple of waterfalls and then we joined to the John Muir Trail to return on a different path.
Mirror Lake & Merced River
The Mist Trail only took us 2-3 hours so we decided to keep walking to the Mirror Lake. The name looked promising unfortunately it was completely dried. I still wanted to take some pictures of reflection on the water even if it was not a perfect mirror lake… luckily the Merced River still has some decent reflections in some parts were the water flow is kind of stagnant.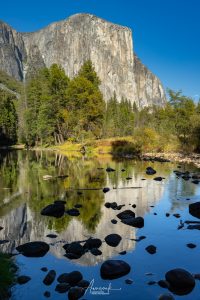 Anywhere in Yosemite
Anyway, if you can't make it to any of the previous spots or any other you got on mind in the park don't worry too much. Huge trees, animals and even starts are easy to see from anywhere in Yosemite!
One more picture of a sunset not far from the park entry to put an end to my stay in US. It was a nice experience, now is time to go back to  Japan 🙂