G
Ghorepani Poon Hill Trek is circular and can be done in both ways. The minimum recommended time to do it is 4 days, but you will find that most tour companies will recommend at least 5 days and if you have time it will probably a better option if you want to take it easy and enjoy a more relaxed trek.
You will need to get some permits or you might end paying the corresponding fine. For this trek you definitely will need to get the ACAP permit (Annapurna Conservation Area Project) and , if you want to do it by yourself (without any guide), you will need the TIMS ("Tourism Information Management System").
IMHO, this trek can be perfectly done without any guide as most of it is will indicated. Said that, there are a few points where you might doubt about the correct path but you can always ask the locals. Besides that, this trekking is one of the most popular in Nepal,  and very likely you will find many other hikers. We decided to do it by ourselves as our budget was limited and, mostly, because we wanted to take the "adventurous" way. Said that, I think that going with a local guide can be quite interesting to learn more things about the area.
We only got 3 days and we were not sure if we would have enough time to complete the whole trek so we decided that we would go first to Gorephani and once there we would decide to go back or trying to do the whole circuit through Ghandruk.
Independently of which way you decide to take, you must start from Naya Pul, a village that can be reached by car from Pokhara in one hour and a half (a cheaper option it to take a bus from Pokhara but we didn't have time to wait for it).
My brother draw the next map which the route we had planned the day before: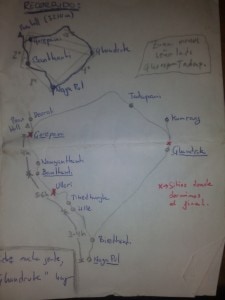 As I pointed out on my previous posts, we were not specially lucky with the weather and the trek was not going to start very well…. It was cold so we decided to take a hot tea to get some energy but, before we had finished them, it started raining… (don't forget to bring a water resistance layer for your backpack!)
Seven hours later, following the route of our handmade map we finally reached Ulleri where we would overnight.
We didn't know at that time as it was cloudy but in the morning we would have the chance to see our first big peak: the Annapurna South (7,219 m)….even from our room!
After a pretty good breakfast we started our second day trek where would run into several goatherds and pretty convenient tea houses through all the way where we could take short breaks.
This rout was going to be the easiest one as in only 4 hours we arrived to Ghorepani. This village is the more common overnight point to see the Poon Hill as it's only 45 minutes further. As the day was not really hard and we arrived soon we were thinking to take a quick nap after lunch and then go up to the top of the hill from where we were supposed to have the best view of the whole trek. However, when we woke up we saw it was raining so we decided that we would go up just the next morning. And we did so and again, we were not lucky with the weather…the Annapurna decided to give us another cloudy day
We only had two days to go back to Naya Pul where we would have to find some transport to return to Pokhara (the next day we got a flight in the early morning). Because of that we had on mind to enjoy the great views from Poon Hill and take the way back through Ulleri again. However, the frustration of not seeing anything from Poon Hill convinced us of trying to complete the whole route through Ghandruk knowing that it was a larger route and we didn't have much time if we didn't want to miss our flight. No doubts we took the correct decision, in our way to Ghandruk we had to get up to another hill and this time the weather gave us some gap to appreciate several peaks.
Nine hours later, mostly going down, we were finally arriving to Ghandruk and we decided to overnight in an accommodation we found in a higher point expecting that we would would have better chances to see the huge peaks the next morning. This time were lucky and we could enjoy several peaks, from left to right: Annapurna South (7219 m), Hiunchuli (6441 m), Gangapurna (7455m), Annapurna III (7555m) and Machhapuchhre (6993m):
In our last day we would continue descending through amazing valleys where we could enjoy even a warm weather and the company of some children along the way. This part of the way was easier as it was a smooth descent until we reached Naya Pul where we took a car to return to Pokhara.
Resuming, a really highly recommended trek 😉