A
After a long night bus from Osaka we got to Tateyama where we would start our weekend surronded by snow mountains. We wanted to do the Tateyama Kurobe Alpine Route which requires to catch several different transportation (Bus, cable car, trolley bus, ropeway…)
As we didn't have so much time to do the whole route (we had to catch another lovely night bus to Osaka on Sunday) and the first day the weather was pretty bad we decided to go directly until the Dam. From there we would return to our accommodation to enjoy the next morning of the famous Snow Corridor Walk.
Due to the unbeatable spot the mountains provided us my idea was to spend some time that night to take pictures of the stars but…it was completely freezing so I finally decided to return back to the warm hut.
The next day we woke up pretty early to enjoy the sunrise and this time the weather gifted us with a pretty nice morning. Because of the small blizzard we had the day before we hadn't realize that out accommodation was just next to a frozen lake!
Our idea was actually to wake up before the sunset with the intention of taking pictures of the frozen walls without people, but it was somehow closed so we went back once the sun was already peeked over the mountains. Of course it was impossible to take a decent picture as it was already crowd by that time, but it's still impressing. The winter was already gone and the temperature during the day was no to cold so the walls were not super high…they can reach even more than 20m!
After that, as we had the whole day before returning to Tateyama, we enjoyed just walking around under the sun. Unfortunately, we were not prepared to climb up any mountain to enjoy the view from there. We were actually going to try but a friendly old woman advised us to not go without crampons as the slopes were pretty steep making it quite dangerous.
It seems to be a good destination for snow sports but actually there were no many people practicing them. In fact, there were no many people in general taking in account how crowded these seasonal spots are normally in Japan.
After the walk we still had time to take a nap over the snow and even to meet a Raicho (Ptarmigan) who seemed to be enjoying the sun as much as us.
We still got some time to do a small walk just after we get off from the cable car to see the Shōmyō Falls.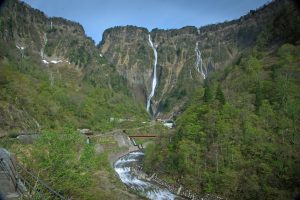 And that was all, time to return to Tateyama city to have dinner and buy some sake to make the night bus more bearable 😉
All pics here