We didn't have time to make any long trip around Spain so, besides visiting Madrid, we decided to pay a visit to Toledo: The Imperial City
It's probably the best day trip you can do from Madrid. Easy accessible by train, you can be there in less than an hour from Atocha Station. Toledo is also called as the City of the Three Cultures as it was populated by Christians, Muslims and Jews.
The architecture around the city is just spectacular and transport you to a few centuries ago.The Santa Maria Cathedral, aka Primate Cathedral, stands out among the other buildings. It's definitely one of the must see of Toledo.
You can get an idea of what to expect on the Cathedral's website. The main hall is pretty big and it has several departments.Great places for a wide lens shooting!
It contains several paintings, many of them from El Greco and some external patios so it's a quite complete visit. Besides that, they run a small tour every hour or so to visit other parts of the Cathedral that are normally closed to the general public and you can even go up to the bell tower which gives you nice views of the city. Unfortunately they are surrounded by some mesh so don't expect to take grate pics from there.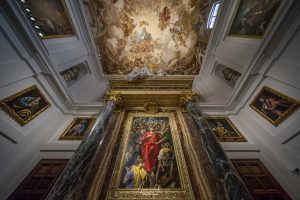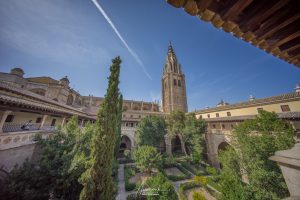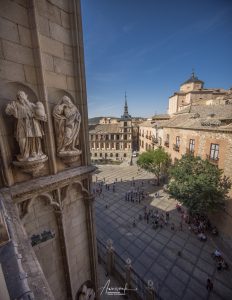 Besides the historic buildings the best part of Toledo on my opinion is to get lost on its streets.
Toledo, as many other Spanish cities conserve in pretty good state its walls.
Last but not least, a must go spot for any photographer: El Mirador del Valle. It's a spot at the other side of the river that gives you an unbeatable view of the whole city. The most recognizable buildings are the Cathedral and the Alcázar. If you bring a good zoom lens you can definitely spend a good time here.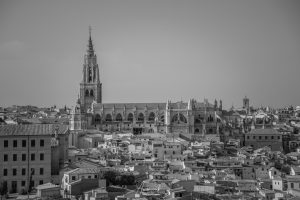 The lookout is a bit far to go by walk (at least on a sunny day as it was) so as an alternative, the sightseeing buses that run the city have a stop there. I really wanted to wait for the golden hour (there are awesome pictures from that spot) but it could't be this time as we have to go back to Madrid soon.
And that was our last small trip in Spain. It was time to prepare the luggage and passports again to keep to our plan of moving to the Land of the Rising Sun!
It's an all-in to Japan as I go with a narrow budget, without job and without speaking the language. No pain no gain. If everything goes well expect a more focused travel blog about in Japan. Wish me luck 😉