Back to Madrid!
As mentioned on my previous posts, the decision was taken and we left Canada. Our idea was to give an all-in to Japan, a pretty risky decision as our budget was pretty narrow. Besides that, I didn't have visa and neither spoke a word of Japanese. But before worrying about it we decided to pay a visit to family and friends in Spain. It was a must as Japan, and Asia in general, is not the best destination to enjoy long holidays at work (assuming I'd get one at all!).
First we went to the Canary Islands for a few days, more concretely to Tenerife where we got some good friends. We focus on relax and enjoy the company so I didn't take many pics. These are the worth ones from this lovely island:
After that we jumped to my hometown, Madrid. Here we spent more days so, even if this is not a proper city guide, we went through the some of the more famous spots you shouldn't miss when visiting it.
Madrid Downtown 
You can breathe history trough their buildings. Starting from Plaza de Isabel II, a.k.a Plaza de Ópera because the Opera Palace is located on one of its sides, you can walk to some of the most well known areas of Madrid.  
Puerta del Sol, Callao or Plaza Mayor to name a few are reachable in a short walking distance. Puerta del Sol is the very center of Madrid. It's well known its statue of El Oso y el Madroño or its Tio Pepe neon signal which was removed from its original location because of Apple opening a store on the building. This square is well know during NYE where thousands of Madrileños gathered to cross the new year while eating the traditional 12 grapes, one for each bell strike. It became one of the main points where the Indignados movement became stronger (+info here)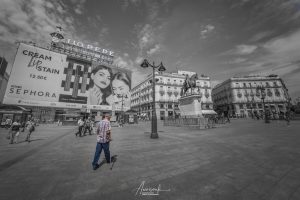 Not far from Plaza Mayor you can walk to a close neighborhood popular among the locals for its tapas: La Latina 
I definitely recommend to get lost in the area and take tapas in any regular local bar. Said that, I will let here a couple of popular places (which I have not even tried as they are pricey). The Sobrino de Botín restaurant which is supposed to be the oldest restaurant in the world. If that's not fancy enough for you, another interesting fact is that Goya worked here as a waiter. Another classic spot among tourists is the Mercado de San Miguel, an old market converted on a high class tapas market.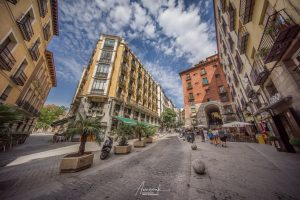 Almudena Cathedral
Located just in front of the Royal Palace, the Almudena Cathedral well worth a visit. It took around 110 years to build due to several problems (civil war included) but it's still overcome by the well-known La Sagrada Familia whose construction started on 1882. It's not clear when it will be finished but seems like it might be finished by 2026 which is the centenary of Gaudi's death.
Coming back to the Almudena Cathedral, it's a perfect place to play with a wide lens. The Cathedral itself is free, to go up to the dome or get into the museum you will need to get a ticket first.
Royal Palace
Another must visit that might easily become the best indoor photography spot you could imagine…but they do not allow to take pictures inside the rooms. What a pity, there are indeed pretty amazing and luxury rooms and saloons inside the palace so I'd have love to take quite a few pics there. The entry is situated at the south of the Palace, just in front of the Almudena Cathedral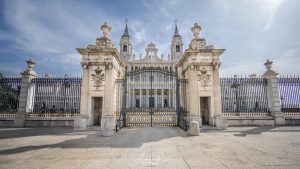 Once we pay the ticket we will reach an esplanade. Before getting into the main building make sure you visit a museum at the left side. It's kind of a long visit as there are so many areas included in the itinerary. I let here the few pics I could take inside before getting into the rooms.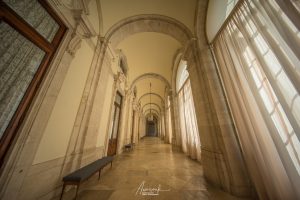 El Retiro
El Retiro, probably the most famous park in Madrid, in part because of very central location. I haven't been there many times myself as I used to live on a walking distance to the biggest park in the city: La Casa de Campo, a.k.a Madrid's Lung. Both parks have a lake where people rent small boats and several bar with terraces. Next to El Retiro you can find one of the most iconic monuments of Madrid: La Puerta de Alcalá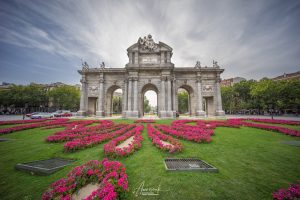 Plaza de España
Another famous spot and very central is Plaza de España (Spanish Square). There has been a recent polemic with the Edificio España as it was bought by a Chinese millionaire who wanted to knock down the facade. At the end an investment group bought it back to remodel it but respecting the facade. There is a park on the middle of the square, in one of the fountains there is a statue of Don Quijote and Sancho Panza. No, not the Japanese Don Quijote, the other one.  We walked all the way trough Gran vía until the Cybele Palace. It was not the best day for pictures as there was not much light, thus I ended processing all of them in black and white that day.
El Escorial
One of the days we left the city to pay a visit to El Escorial. It's huge so you can literally spend hours inside. I directly c&p from Wikipedia: "It is one of the Spanish royal sites and has functioned as a monastery, basilica, royal palace, pantheon, library, museum, university, school and hospital"
As a curiosity you can visit the Pantheon of the Kings where, as you can imagine by the name, it contains the tombs of several Royal family members.
And that's how we spent our few days in Madrid. And what better way of saying goodbye that with a picture from Atocha Station. We came here to take a train to a close Imperial City which will be the entry of our next post. Can you guess which city was it?