The last stop of our Philippines trip was going to be Siargao. This island is not a really touristic place if you compare it with some other destinations in the country. However, it is well known by surfers as it holds an international surfing competition every year on its more famous spot: Cloud 9. The cheap accommodations around this wave makes it a good destination for surfers with limited budget.
But no, you don't need to be a surfer to enjoy Siargao, who can resist to its sunsets?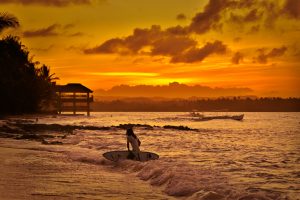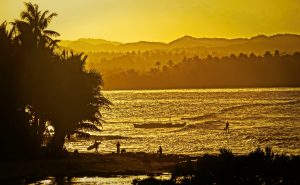 Probably, the most famous activity in Siargao is the island hopping , unfortunately, we let it by the end of our holidays and then, due to a combinations of factors (weather, mechanical problems with our boat…) we couldn't do it, lesson learnt,  don't let by the end any must see activity 😉
What we did the previous days was to rent a motorbike and give a round to the island. Besides the don't forget the sun-cream advice I will add the don't forget the international driver license as we were stopped in a police checkpoint and we hadn't brought them…. The policeman, after scolded us a bit, he was reasonable enough to let as continue without any bill or similar. But you guys know how theses things work, you run into a not so reasonable guy and things end worse.
In our way around the island, we spotted a peculiar house and we stopped to take a look and see if we could eat something. I don't really like to write about the accommodations but, sometimes when travelling (normally in backpackers or low cost accommodations), you find theses special places that you really are likely to share. This is the case of Jafe Surf & Sail Camp Resort which, even only stopping for a couple of hours to refresh ourselves, we really got a good impression of. In other words, we already know where we will stop at least for a day in our future next trip to Siargao.
It was own by Jack, a new yorker guy retired and its Philippines wife (who unfortunately we couldn't meet!). Jack is these kind of guy who has traveled around the world and gives you really interesting conversations since you just meet him. The main house in the resort is decorated with many different stuff that he and his wife have been gathering from its trips or gifts that they recieved from friends. If you pass around get it a take a look, I'm sure it will not disappoint you!
Other famous activity in Siargao is to swim in a jellyfishes lake which. Don't expect it to be as the Jellyfish Lake in Palau but still it worth a visit!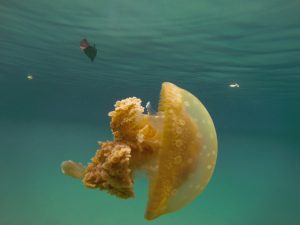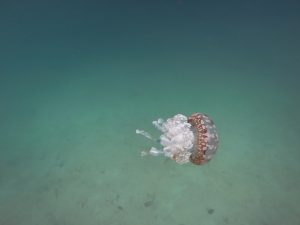 If you decide to rent a motorbike to explore the island you really should stop at Magpupungko Beach and Tidal Pools whose waters are really clear….there is no better place to fight against the Philippines sun that swimming in this pools!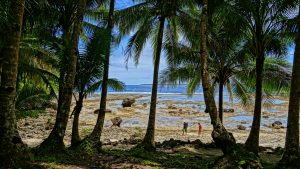 Resuming, if you go to The Philippines and you want to avoid the most touristic destinations, you should give a try to Siargao 😉
All pics here