We got a week holiday and flew to explore the island of Kyushu. When I checked the  'must see' spots I ended with a huge list from North to South. We would fly to Kagoshima and would come back to Tokyo from Fukuoka. Our original idea was to visit all scattered spots we added to our list but soon we would soon realize it was not doable plan. At the end we decide to focus in the South and would mainly visit the Kagoshima Prefecture.
Kagoshima City
Our main base would be Kagoshima city. The city itself is full of history, specially to be the home of Saigō Takamori (a.k.a Last Samurai) who played a key role in Japan transition to a modern era. This reminds me I stopped watching Segodon , a Japanese drama about his life, and should probably retake it at some point.
Weather was not specially good so none of the few pictures I took passed the filter. The must see of Kagoshima is the residence of Sengan-en. For foodies, I got probably the best shaved ice I ever took here. But, more important as a Ramen lover, I took a Kagoshima style ramen who went directly to the top of my Best Ramen List which I can tell you is a pretty demanding one. Unfortunately I don't remember the exact place…
Yakushima
Like we gave up with our crazy idea of visiting all Kyushu in a week, we decided to take a ferry to one of the islands at the south of Kyushu. Tanegashima island is famous because of its Tanegashima Space Center. Not only Japanese rockets are launched here but some other international projects like the one United Arab Emirates launched to Mars a few weeks ago. We however decided to go to Yakushima which is famous for some its hikes.

We were planning to do a couple of excursions in the island. However, as soon as we arrived to the head of the fist trail it started a huge rain which made us to go back.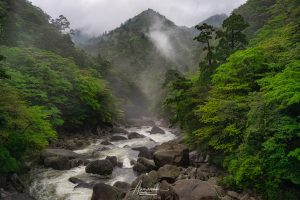 The second day was the main hike we wanted to to and we were decided to make it even if it would rain. The idea was to see the Jōmon Sugi, the oldest tree in the island. Its actual age is not clear but seems like it could have been there 7000 years ago. The hike itself is pretty interesting as for a main part of it you need to follow an abandoned train rail which is surrounded by high trees.
The hike itself takes around 10h (return included). I think we spent a few hours left as we walked fast that day, in part by the fact that pretty much it didn't stop raining the whole day. We finally make it to the Jōmon Sugi which is located almost in the very center of the island.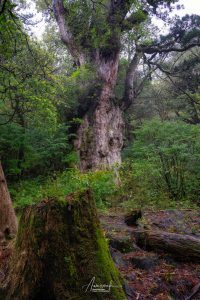 Sakurajima
Kagoshima's landscape photos are very recognizable by the fact that Sakurajima always appear int he background. Sakurajima used to be an island inside Kyushu but it eventually became a peninsula. How is that? Sakurajima is actually a volcano (the most active one in Japan) and, in one of its eruptions, the lava flows filled the strait between the volcano island and the mainland of Kyushu island.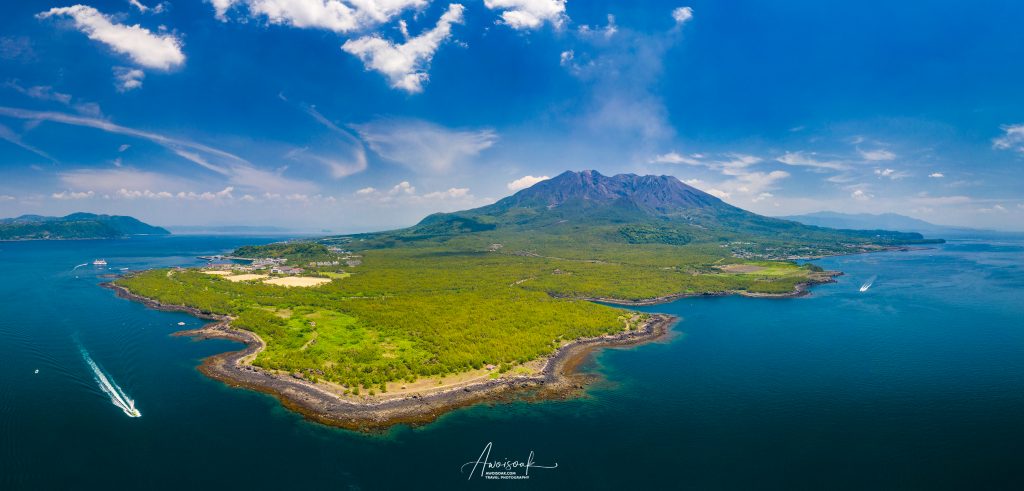 Sakurajima can be access very easily by taking a short ferry from Kagoshima port. It has some easy walk around the coast which is a perfect spot to fly a drone. They got plenty of cats around the way which seems to survive with the food people give them. You will notice that they will ask you for food whenever you pass by. We gave them some food in exchange of some portraits and they agreed on that.
Kirishima Kinkowan National Park
The park is located at the north of Kirishima. There is no direct public transport so we decided to stay one night in the area so that we could do a hike in the early morning. We stayed very close to the Kirishima-Jingu Shrine which was in my must see list too.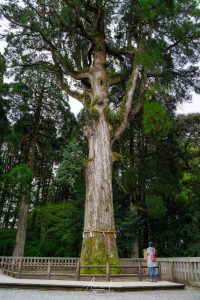 The Kirishima Kinkowan National Park is definitely one of the highlights of this region that you should not miss. It has several route hikes but take in account that some of them might be closed due to some of the active volcano. That was in fact what it happened to us, the route to the highest peak was closed so we reschedule it accordingly. If you got a drone is definitely a great place to make use of it.

And that was pretty much it. Our original idea of visiting all Kyushu in a few days didn't make sense at all but still got to take a train to Fukuoka as we had our flight back from there. Resuming, we really liked Kyushu and we are already planning to go back to focus in the center and the north. We will have to wait though until all these Covid-19 situation improves but we are already looking forward to it!