This was my second time in Macau, a.k.a the Las Vegas of Asia. I'm not particulary into casinos or fancy hotels but I really like the mixed of cultures you can feel in this Special Administrative Region. Macau was a Portuguese colony until 1999 when its sovereignty was transfered to China. Because of that, Portuguese is one of the official languages of Macau (Cantonese is the other), they even have a Portuguese dialect called Macanese Portuguese.
The most densely populated region in the world
Another interesting point of Macau: is the most densely populated region in the world. You can see indeed some areas that look overpopulated but they don't look as much crowded as the centric areas of its neighbourgh Hong Kong. The key is that Macau area is much smaller than Hong Kongs' (30.5 km² vs 2,754 km²)
I specially like the contrast between the luxury buildings and the old area of the city where you can see old architecture from its colonial period.
On my previous visit 5 years ago I just got inside of one of the most famous casinos of Macau: the Grand Lisboa. It is a high building with a very distinctive shape that you can sight from many parts of the city.
This time we would get into a few more casinos (a friend of us works in one of them!) and even play a few coins just to say we bet something. The good thing is that you don't need to stay in these resorts or even pay anything to get inside them. That's very convinient if you are not really into these games but you still wanna take pictures of its amazing interiors. A couple more of casinos you should definitely take a look are: The Venetian Macao & The Parisian Macao
The Venetian Macao is the largest casino in the world
The Venetian Macao is the largest casino in the world. It has some stunning corridors that made you think twice in which continent you really are.
Special mention for the indoor San Luca Canal and the building outdoors… benvenuti in italia
The Parisian Macao on the other hand transport us to the French capital. It has a half-scale replica of the Eiffel Tower just in front of the building (which unfortunately I didn't capture any decent pic to show you) and, once again, its interior make you wonder if you really are in Asia.
You can take a look as well to a replica of 'Fontaine de Mers'… bienvenue en France
With all this luxury hotels you might be wondering now if you really should include Macau in your trip as your budget is limited. The answer is yes, there are many other small hotels/hostels with pretty affordable prices. You can even plan a day trip from Hong Kong as it only takes 1h by ferry.
Tired of casinos? Take a look to the Macau Science Center , there was some pretty interesting exhibitions that time. Another interesting spot is the Kun Iam Ecumenical Centre with its peculiar design well worth a visit.
The Macau Tower is another symbol of Macau which, besides the view itself, has the highest commercial bungee jumping facility in the world. On my first visit I went up and I was tented to overcome my own record (I had jumped in Nevis a few years before) but the price took away my desire… Anyway, I will probably do it again in the future, bungee jumping is a great experience!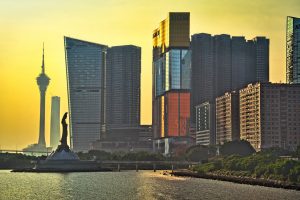 Macau is divided in two big areas, one connected by ground with Mainland China and an island in the south being both connected by 3 long bridges that cross the waters
I specially like to walk around the city as night where all the neon from shops and buildings comes up giving us such beautiful atmosphere.
The heavyweight champion of the gambling industry
Resuming, if you are into betting money and play in casinos, there is no better place on earth. Thinking about Las Vegas? Forget it, Macau is the heavyweight champion of the gambling industry : "The numbers these days are quite staggering; gamblers in Macau wagered US$28 billion in 2016, dwarfing the $6.3 billion casino resorts that hug Las Vegas' famous Strip took in bets."
But even if you don't like casinos, Macau is a pretty interesting place to visit due to its mix of cultures , easy and cheap access from Hong Kong and its magic nights. You could find even romatic places under the lights of those huge casinos where so many money is being played with.
All pics from this and my previous trip to Macau here