A
After a few months living in Vancouver, the time had come for us to start our Canadian Road Trip. There were two main highlights we wanted to visit: Vancouver Island and The Canadian Rockies. Pretty excited, we left our small room in Vancity and we took a ferry aiming to Victoria. After checking and discussing the must see and what do do in Vancouver Island these were the results.
Vancouver Island
Victoria
The biggest city in Vancouver Island and the capital city of British Columbia.I was looking forward to visit this city. Early that week I had got a job in a local company but things changed so quickly and in a matter of hours we had decided to leave the country. One of the points I was attracted by Victoria was its reputation of being one of the sunnier and warmer cities in Canada . The other one was that is basically surrounded by waters popular between whales and orcas… The only image I had on mind about Victoria was its harbour and the British Columbia Parliament Buildings.
I specially liked the Fisherman's Wharf which has colorful houseboats. Some of them have been converted to small restaurants. You can even visit some of the particular ones. Take a look to the waters while you walk around seals are often seen swimming in the close waters.
Juan de Fuca
After couple of relaxing days in the city, we started our trip crossing the Juan de Fuca district. There is a famous trail known as the Juan de Fuca Marine Trail which seemed promising. Unfortunately we couldn't manage to do it as it is a pretty long hike and we would needed to go the way back again in order to pick up the car. Instead, we continued driving to the north until we reached the Botanical Beach Provincial Park.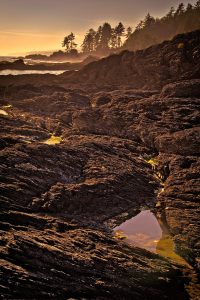 The day was close to end so we decided to make our first night in Port Renfrew. Most concretely in the Pacheedaht First Nation camping. An awesome reserve where we were able to camp and have a dinner under the stars with a warm bonfire. What a perfect way of ending the day. We didn't know yet but that would be one of the few fires we were going to be able to enjoy in the 3 weeks we had ahead us. Due to the fires BC suffered that summer, most camping banned bonfires.
Actually we didn't make the bonfire that night. As soon as we arrived to the place we start setting up the tent and the car. A few minutes later, two couple of Canadians who were close to us invite us to their bonfire and we couldn't say no of course! We had plenty of interesting talks, mostly about the First Nation reserve and Canada in general. They recommend the kind of place that is barely indicated so if you don't know it in advance you will not notice: The Red Creek fir. It is the largest Douglas fir tree in the world. If you have read previous entries of this blog you will know by now I like these rankings.
Cathedral Grove
Another famous spot during a road trip in Vancouver Island is Cathedral Grove. It has a couple of short walks within a forest where you can see huge trees. A paradise for a #porntree instagramer.
Tofino & Ucluelet
In our way we found some nice spot when passing by the Kennedy River. In Ucluelet we did the so called Wild Pacific Trail from where unfortunately I don't have any pic. It is a pretty easy walk around the coast (you can see a map here)
Tofino is in a short disctance from Ucluelet. It is a popular surfing area though none of us were really into it (the cold water didn't help either). We spent a couple of hours in the town of Tofino itsself where we mostly visited the port area. Close to it you can get inside the House of Himwitsa. A pretty cool native art gallery though most of the things were out of our budget.
Chesterman beach , which is very close to Tofino, is a pretty nice place to take a walk trough the long beach and very likely it has to be a great spot for sunsets.
We ended waiting for the sunset in another beach closer to Ucluelet. It might not be as good as Chesterman beach but it was definitely worth it and it was all for ourselves.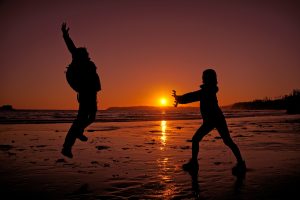 The next morning we woke up early to book a whale tour in Ucluelet. We saw a couple of whales but a too far so I couldn't take any decent picture. What we were able to see a pretty close sea lions community.
Kitty Coleman Beach Provincial Park
We had to continue our way to the north of the island and to do so we had to go back to the east in order to take the corresponding road. We had been recommended a camping in that side of the island and so do recommend it now. The Kitty Coleman Beach Provincial Park has an amazing location for a pretty affordable price. If you are travelling with a small budget in Canada, you definitely should take a good look to the Provincial Parks. There is a boat ramp that has a lot of movement at sunset. At this time the locals come back with their small boats with the fishes they captured. Seagulls and eagles seems to be pretty aware of the schedule as they play close attention to fishermen when they clean the fishes and throw away the remains.
Telegraph Cove
This was one of the main points why I decided to visit Vancouver Island. Telegraph Cove is a small community famous for its sightseeing of orcas. I have been fascinated by these animals since I'm a child (this old movie comes to my mind). Whales and orcas were always my favorites animals (white sharks too!) so when I came to live to Vancouver I had always on mind to book a tour. Now that you see how excited I was about this I will say that we were pretty unlucky on this subject. We spend a couple of days in Telegrap Cove where we took the usual whales/orcas tour and even a kayaking tour to see them. (This might sounds dangerous but there has never been documented any fatal attack of wild orcas to humans).
We even changed our schedule to spend one night in Robson Bight (an orcas sanctuary). We were told orcas come here to scratch themselves against the shore's rocks. Unfortunately we didn't see a single one here either (though we found a bear with its cubs!) so all of us were kind of sad…. I guess we have to always look at the bright side of life.. I do have a pretty good excuse now to return here in the future!
Anyway, we were able to see some whales and this time we had closer encounters that the one we did in Ucluelet.
But even if you don't see whales, the landscape is beautiful in any case.
Telegraph Cove is a pretty small community but they have a small museum call the Whale Interpretive Centre that well worth a visit. I'd like to visit Telegraph Cove in when it's covered by fog, it must be pretty photogenic.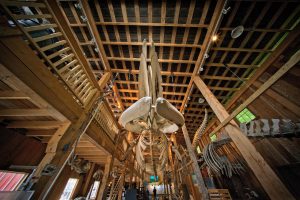 Alert Bay
The last destination of our itinerary in Vancouver Island was Alert Bay on Cormorant Island, an Indian reserve (actually the island has two). We arrived at sunset so the very first thing to do was to make our tent before it got dark. The next day we took a walk close to the 'Namgis Original Burial Grounds with its totem poles.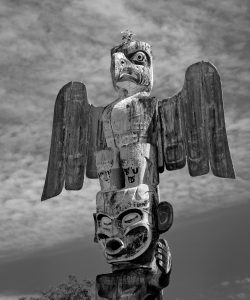 I really liked the relaxed atmosphere of this village. The morning was so nice that day tough soon it became cloudy.
I added a new item to my ranking collection. We visit the world largest totem pole in the world, though seems to be some controversy about the rankings. It was 52.7 meters tall though in 2007 the top part fell due to strong winds. Still, you can see how large it is in the next pic (there is an eagle resting in the top)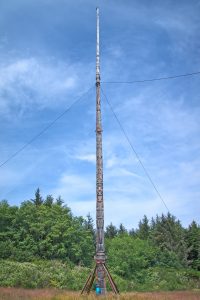 If you come so far to the north of Vancouver Island, you definitely should think about coming to Alert Bay (it can be reached by ferry from Port McNeill).
And that was it, we spent around 10 days in this beautiful island and I probably they were not enough… I loved it!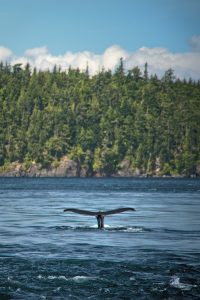 All pics here