A
As I mentioned on my last entry (Qibao & Zhujiajiao), I was really looking forward to visit Shanghai since long time ago. I wanted to stay as long as possible in Japan but, holding a tourist visa, I couldn't stay longer than the 3 months so I had already on mind to spend a few days abroad to make a re-entry. As always with this subject, there are tons of different information in many pages out there: from people whose advice is that is better not to try to re-entry to some others who claim I have been doing that for a year and I never had problems. Some other say it depends on the city you are trying to re-entry, the season is a big factor, before it was easier but now they are more strict…
You can read all kind of opinions about it and the fact is that, there is not any official statement where you can get a reliable information. I even contacted the Spanish Embassy in Japan (yes, obviously this broken English couldn't be native) and they couldn't give me any guaranty of not having problems on my way back even if there was not any official rule that said so. There is a no written rule that says you can't stay longer than 180 days per year on a tourist visa. Dear reader, if you know where this hidden rule come from please let a comment ;). Anyway, as always on these cases, the last word will be given by the immigration officer. I took advantage of the 144-Hour Visa-Free Transit policy which, as the name indicates , allows you to stay 6 days in Shanghai if your country is qualified.
Besides the floating towns from my previous post , I spent the rest of the days walking around the city being this entry a resume of the spots I found more interesting to visit.
It has a few Buddhas and some others interesting sculptures (+details)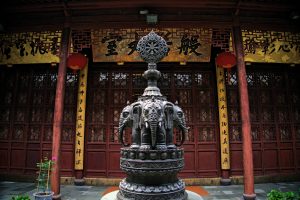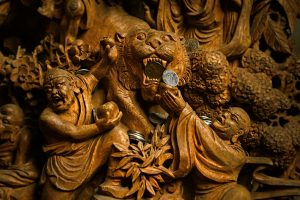 It is bigger and more crowded, is surrounded by modern buildings which make it interesting to capture such contrast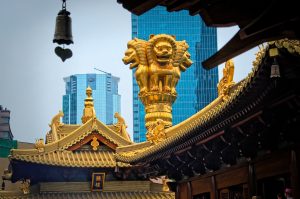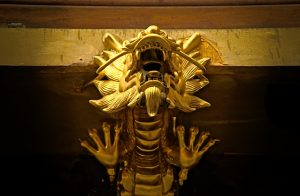 Many people try to score some coins into these huge "things", it was kind of funny so I spent some time taking pictures. That's one of the good things of visiting temples in Asia, locals normally don't really mind to have photographers around.
(+info)
This is probably one of the most touristic areas so be prepared. During the day is was too crowded to take pictures so I came back during the night with my tripod, unfortunately they close the whole area at some point. Next to it you can visit the traditional Yu Garden which well worth a visit.
(+info)
This main pedestrian road is one of the busiest shopping streets in the world. It is full of restaurants and shops and it is surrounded by some not so fancy areas where you can find cheap accommodations.
At the end of Nanjing Road you will find The Bund, the most famous point in the city where you can enjoy an spectacular view of its Skyline. Let's be honest, this is probably the main reason you came to Shanghai, even more if you are into photography. Besides the view, this area has some old style architecture building that belongs mostly to banks and embassies.
(+info if you are stepping over in Shanghai  for a few hours and you wanna get here)
Lujiazui
We all have probably seen the pictures that show the amazing development of Shanghai during the last years, that area is Lujiazui , the new financial district (used to be The Bund). It keeps growing as they inaugurate the Shanghai Tower (+info) a couple of years ago. Of course, I had to visit in person following my personal competition of visiting the highest building and towers in the planet. I should write an entry in the future about it…. but let focus in Lujiazui now.
Shanghai's pollution has a pretty bad reputation and indeed it will affect your pictures. Generally, night pics will give you better results here as during the day you will mostly get blurry and noisy pictures at least you are pretty lucky with the conditions. Shanghai Tower is the second highest building in the world and the views from its observation level is simply stunning. Don't forget the tripod if you come here or you will definitely regret about it. Do you see any replicant down there?
The Oriental Pearl Tower is the most characteristic structure in the skyline. You can go up to the 3 spheres but I couldn't really take good pictures from there as there were too many reflections an the glass was not really good for pics anyway. In any case, even from the ground, all these area is a playground for photographers, make sure you save one or two days to play around it.
And that was my trip to Shanghai. To add some extra tip, I tried to use my company's VPN to bypass the famous Chinese firewall but it didn't work.  I knew I would probably have problems so I had installed Tor Browser but still, it was not working. At the end I realized that the public bridges must be automatically banned by China so, in order to get new ones you can send an email to bridges@bridges.torproject.org writting "get bridges" in the body. If these new bridges do not work you may wanna try to ask for new ones (+info)
All pics here